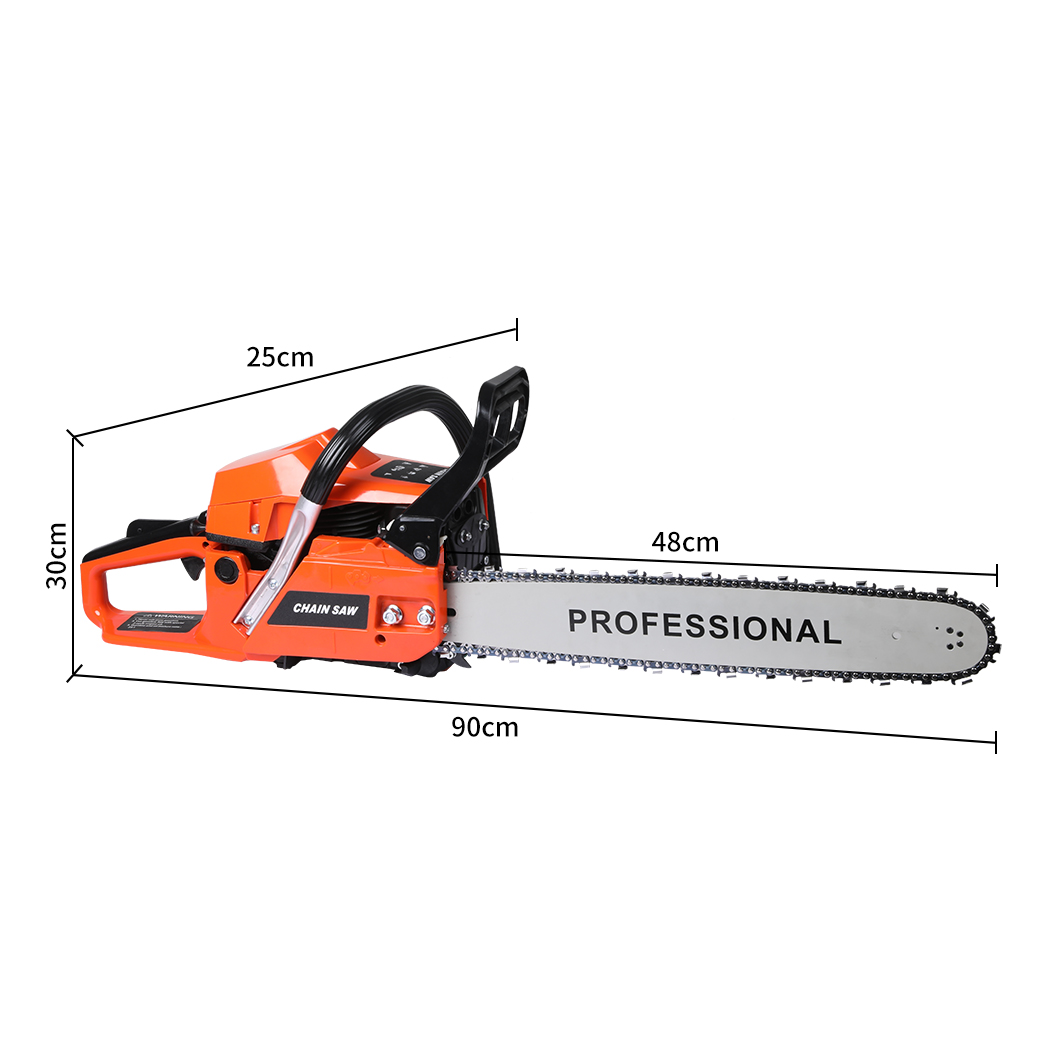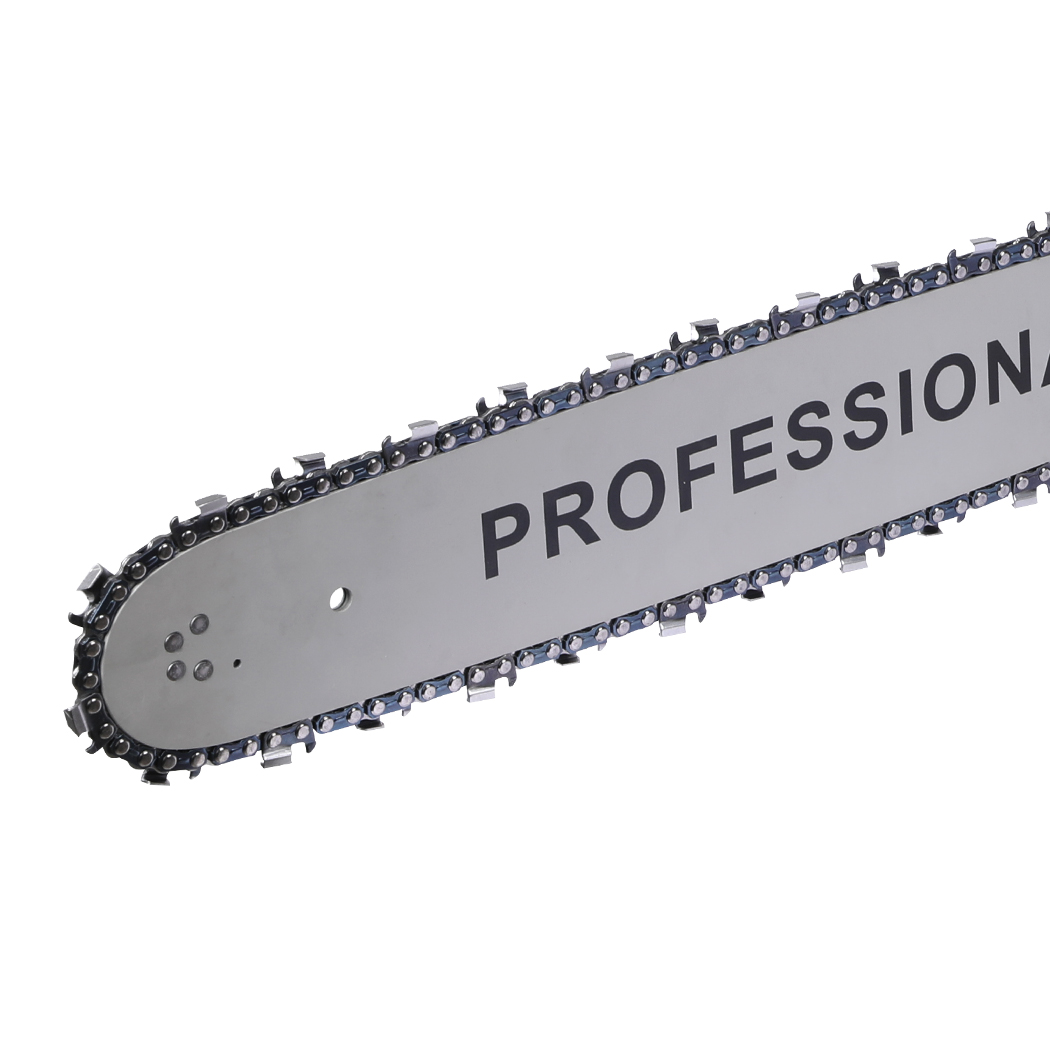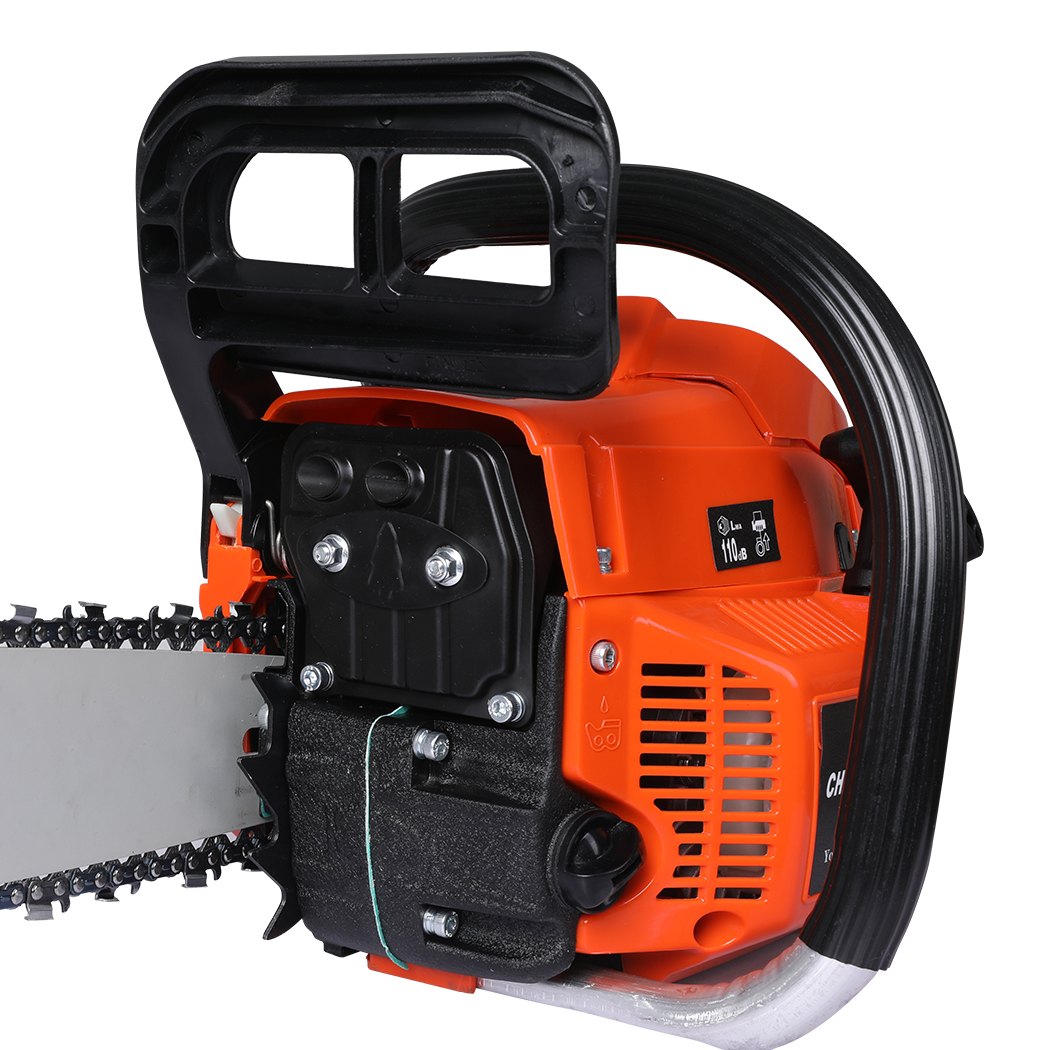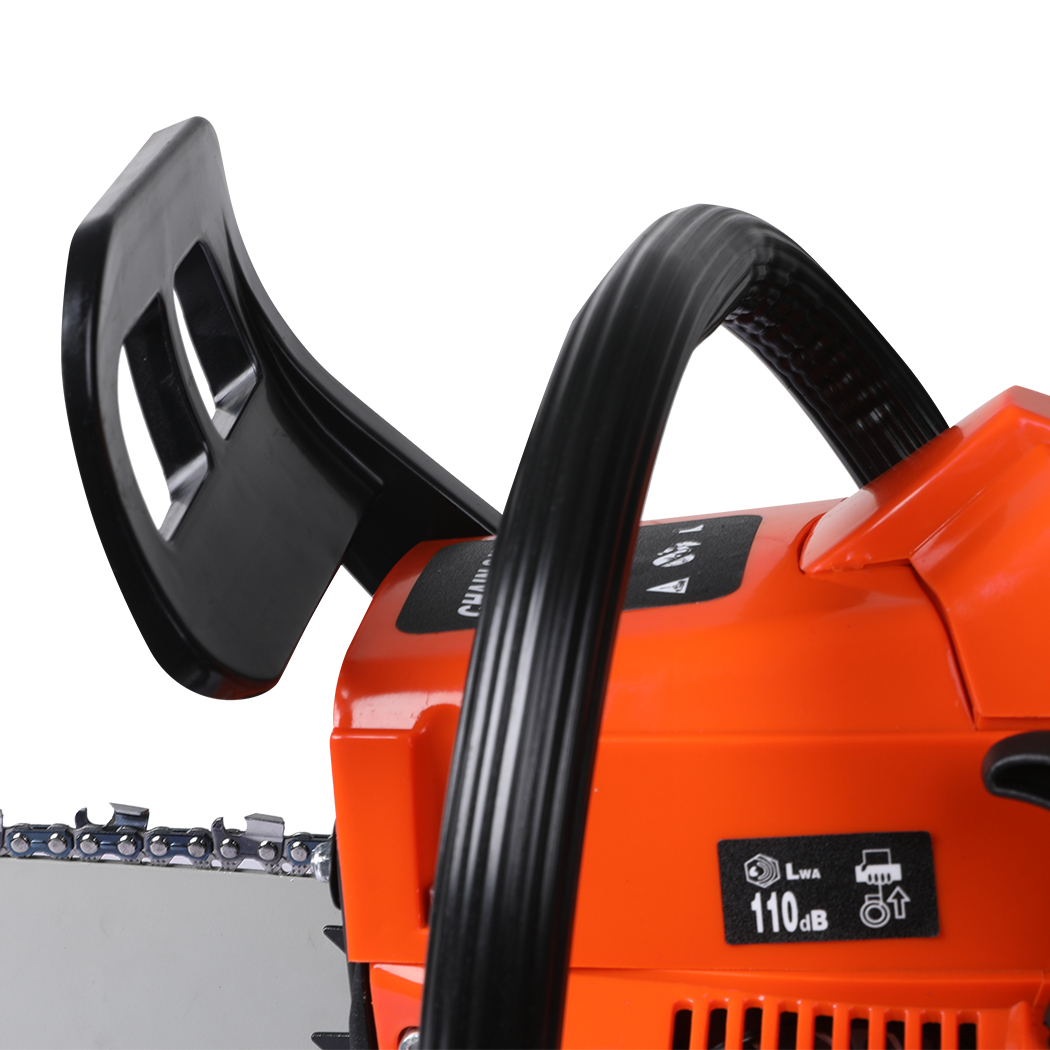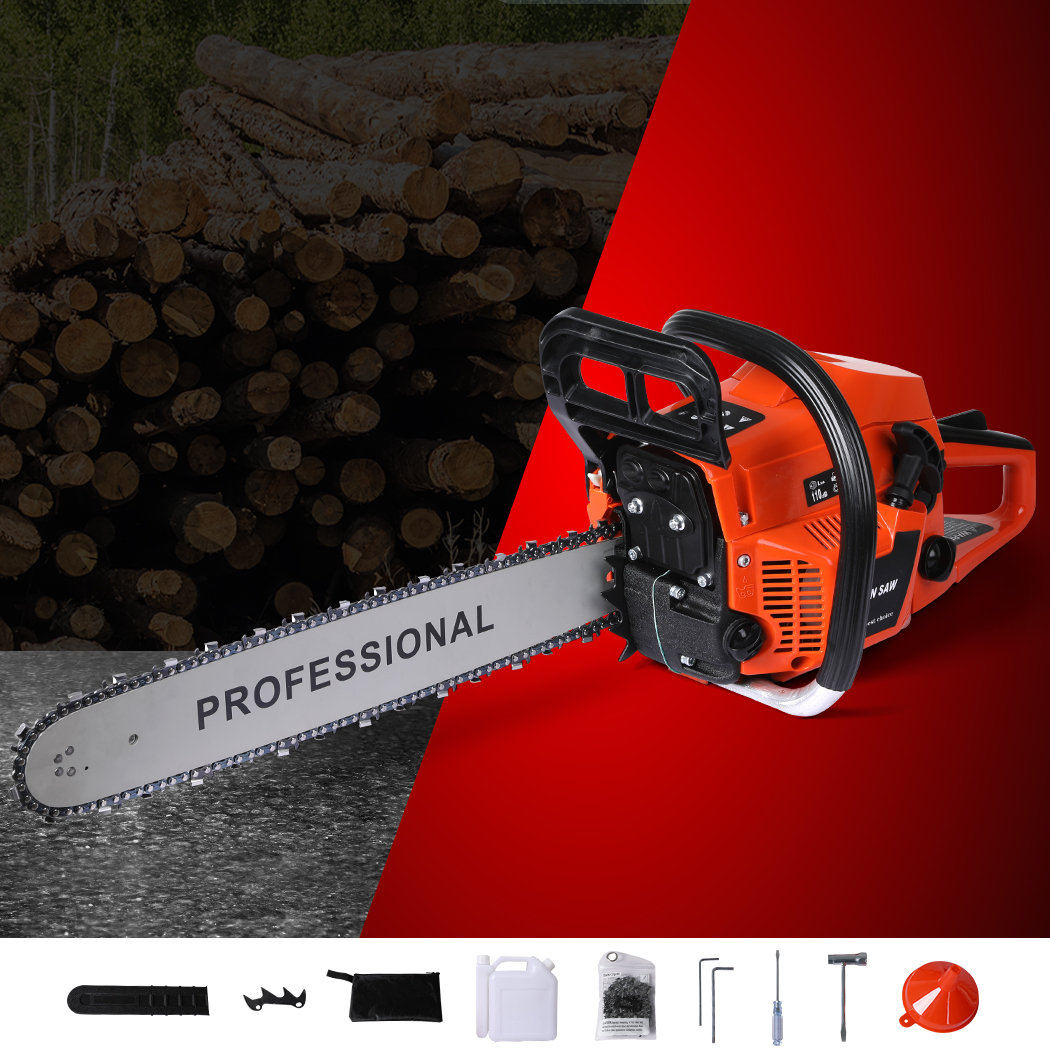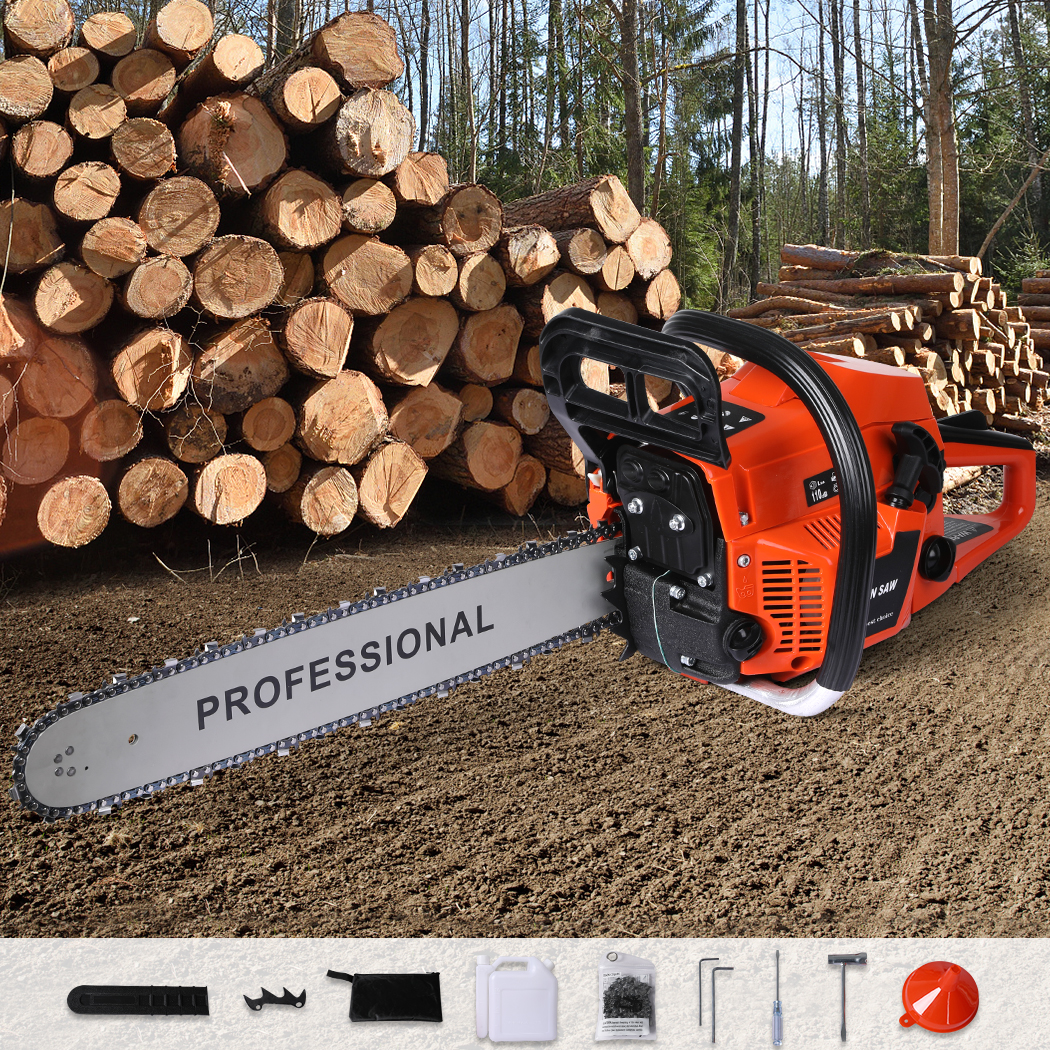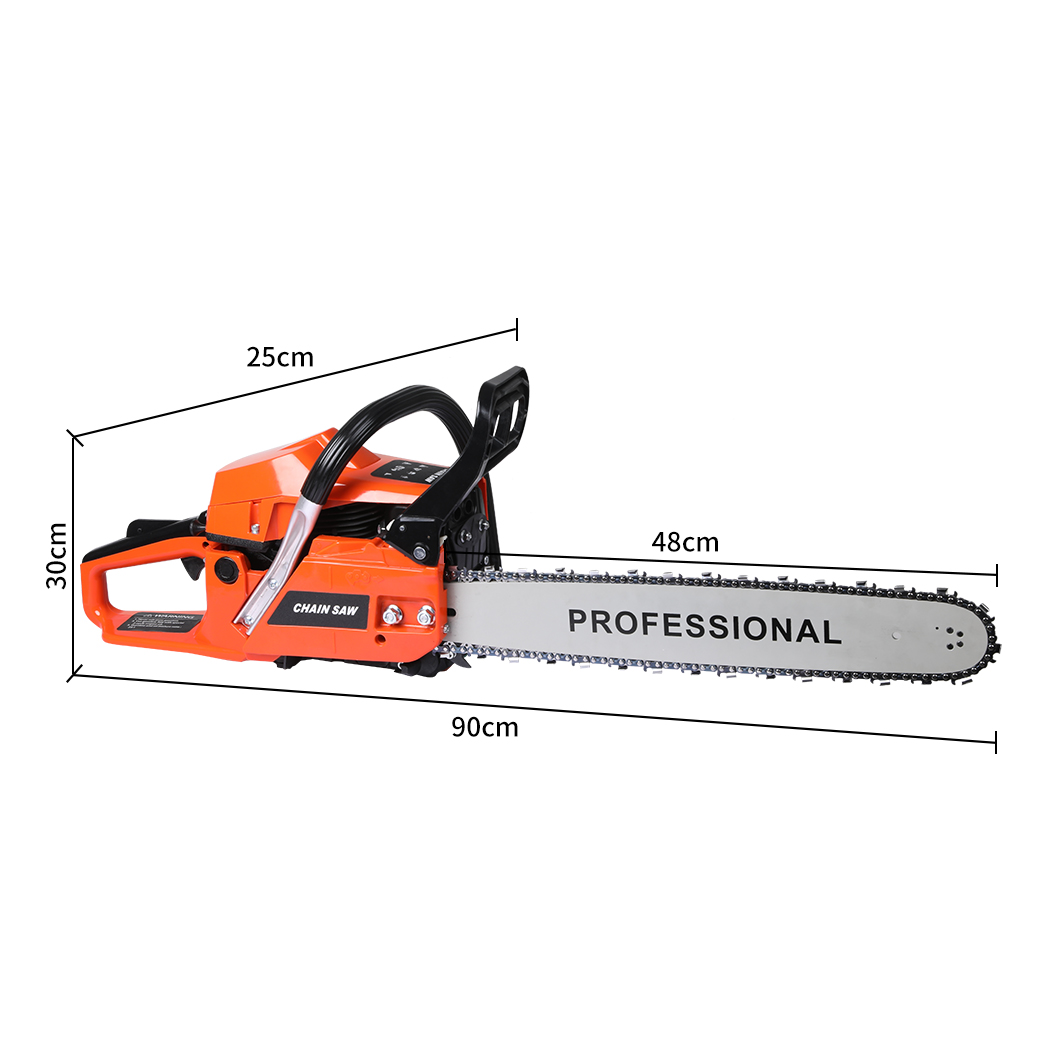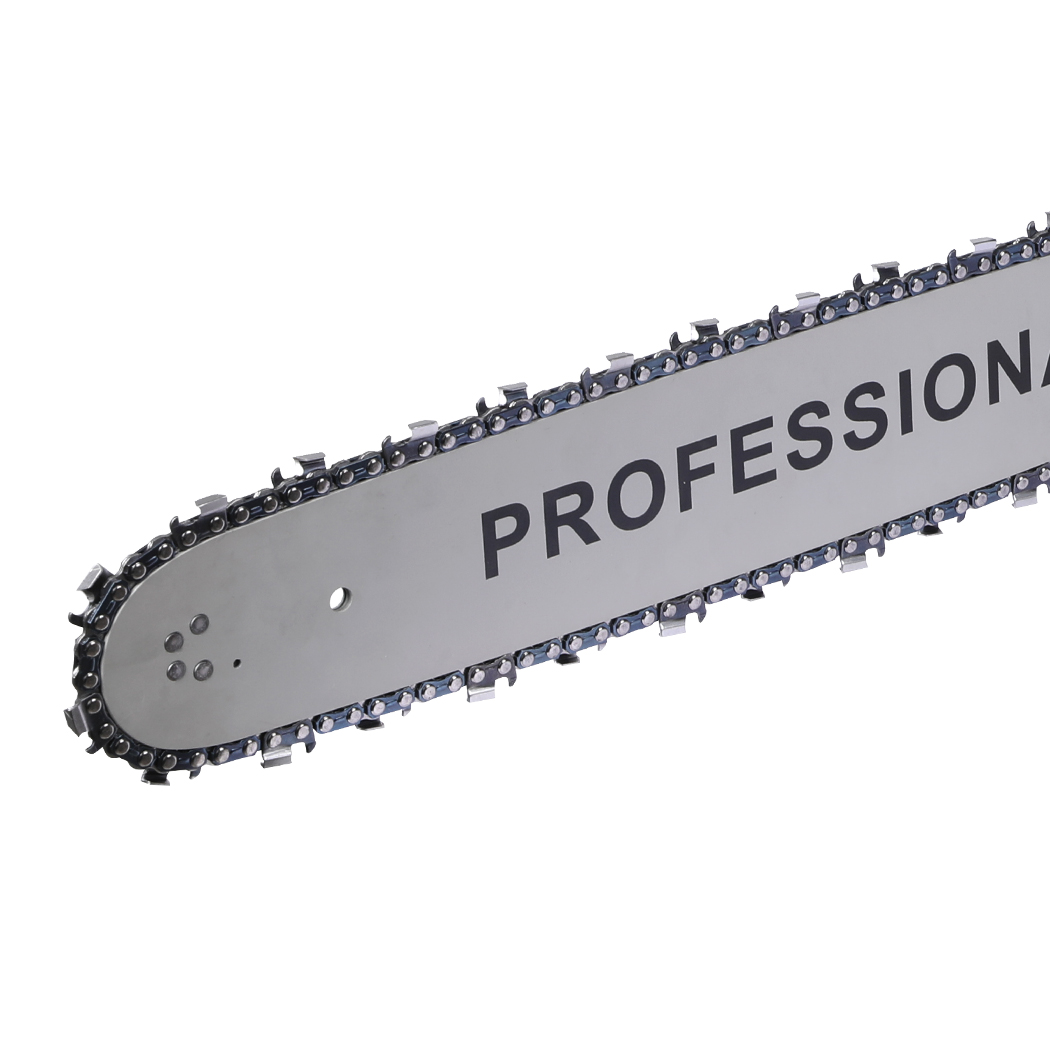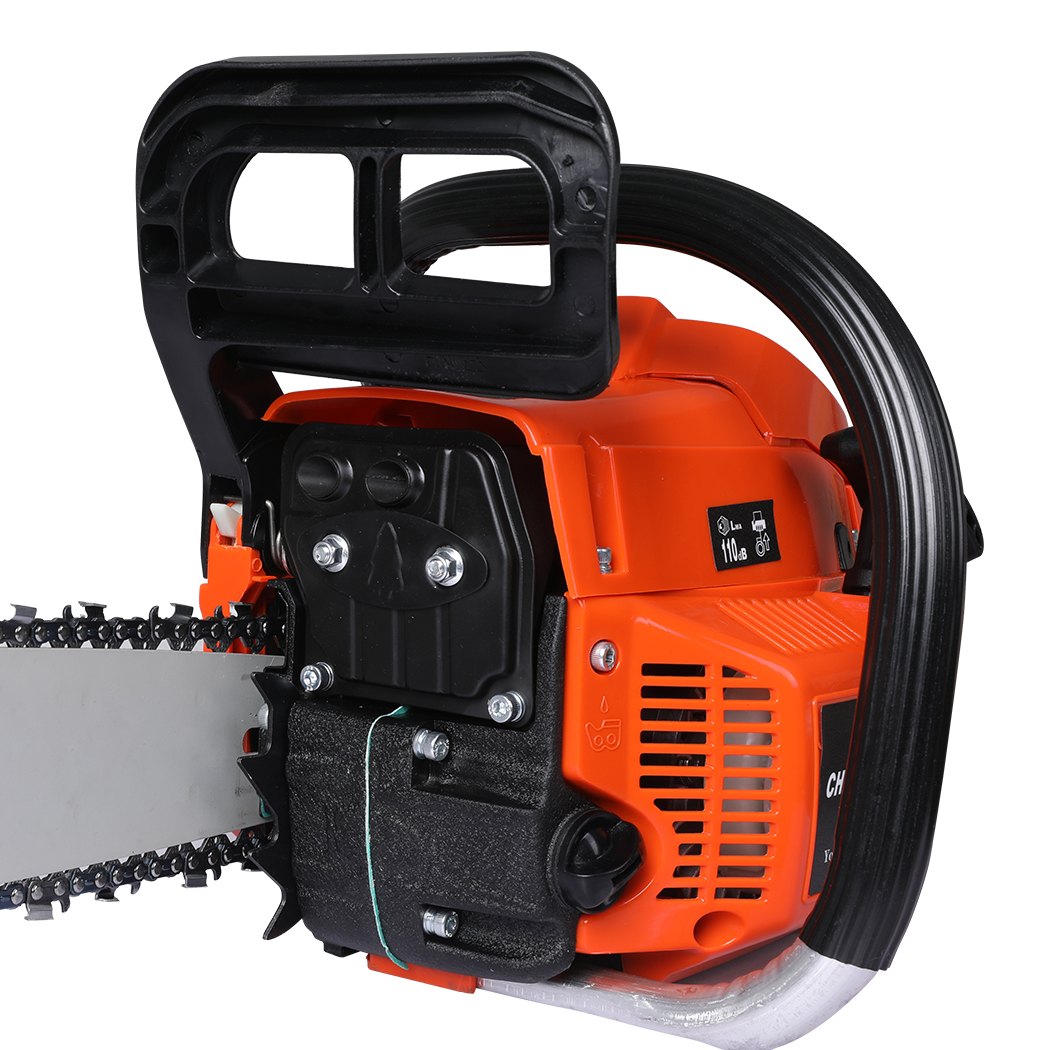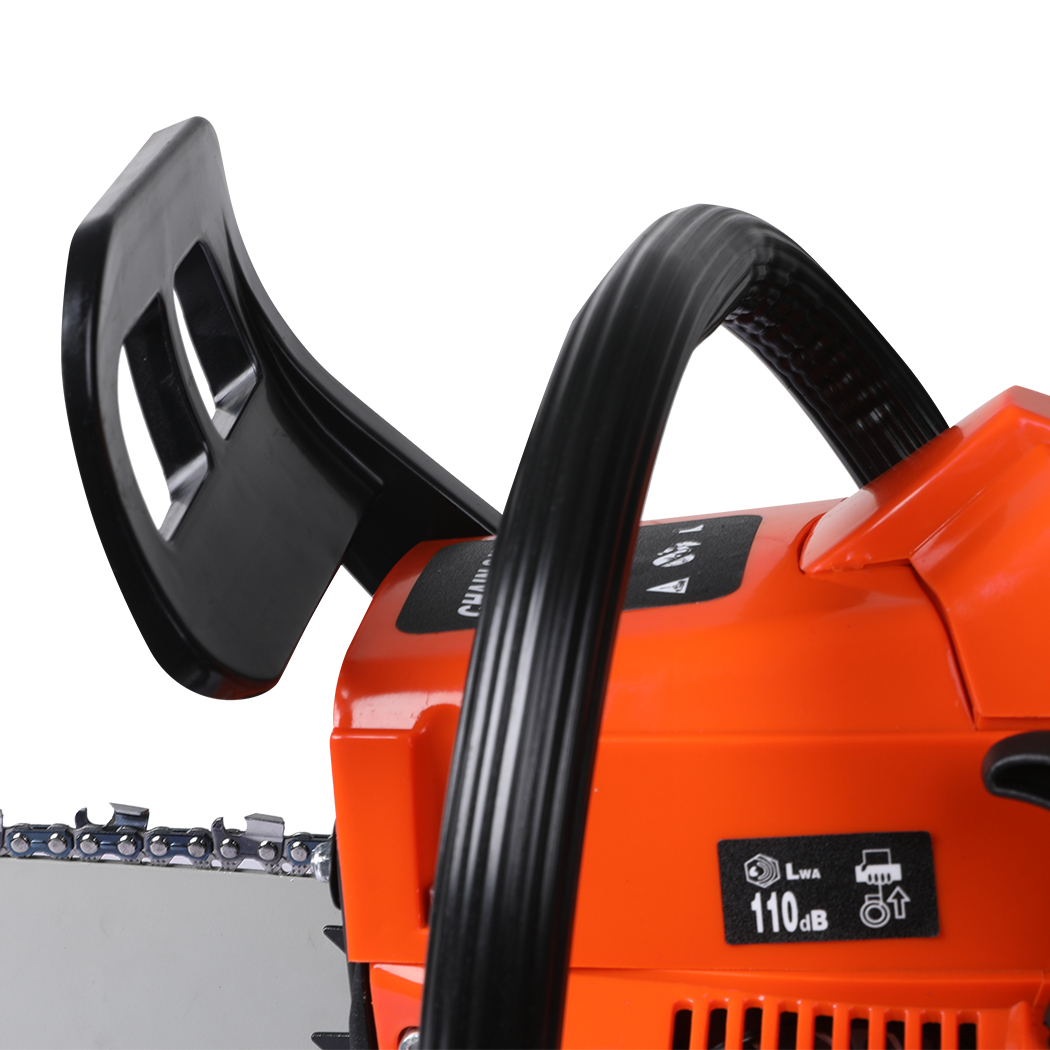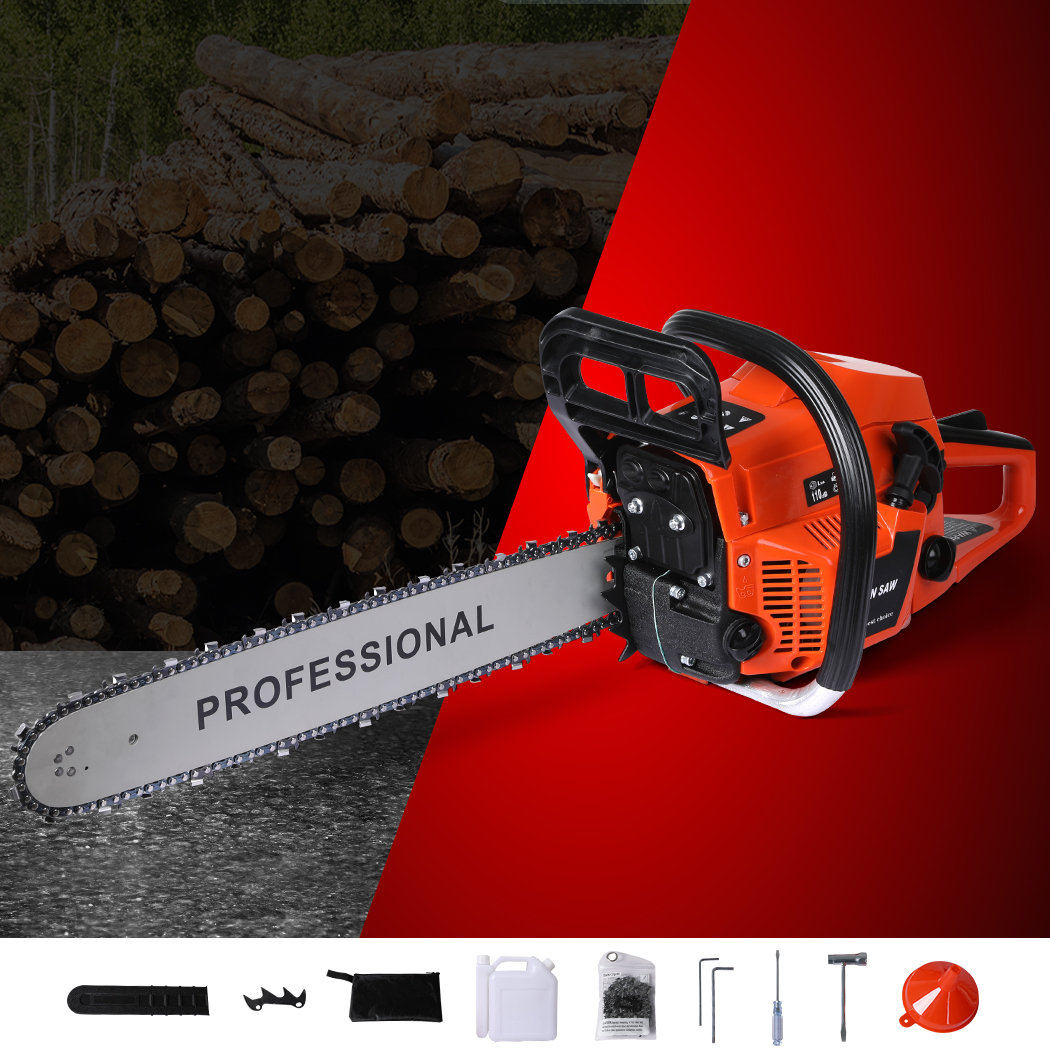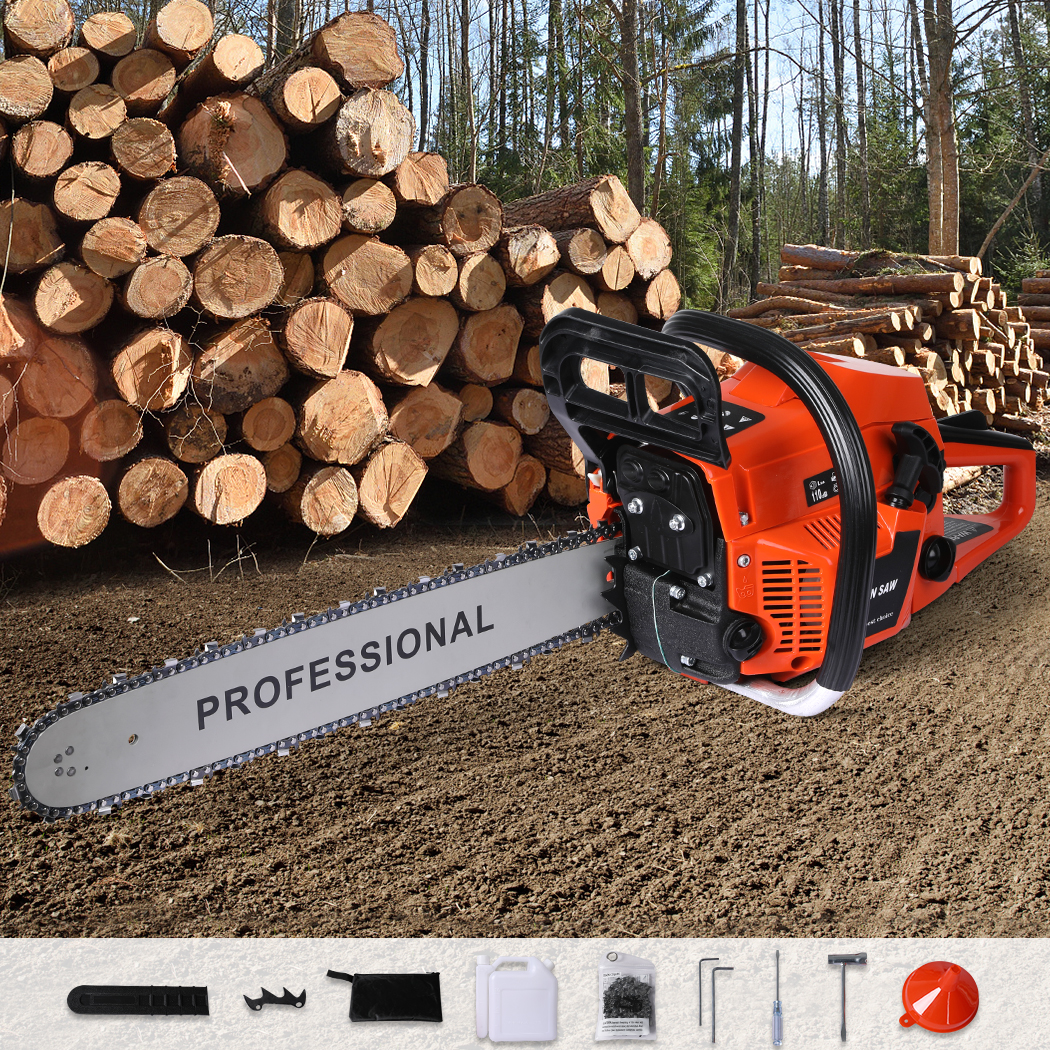 Chainsaw Petrol Commercial Chainsaws E-Start Tree Pruning Top Handle Wood Cutter
27
people are viewing this right now
Guaranteed safe & secure checkout
Description
Cut precise slice down open in with our Chainsaw. Engineered to perform smoother actions one that does not consume much of your energy and executes the task with mere perfection. Simple to use easy to handle product that is ready to sway in with your daily work life.
Power in your hands! Featuring an internal high-strength motor that rotates up to 1000 RPM – slicing through the wood like a piece of cake. It comes with a 52CC double cylinder that will harness and channel the power in the right direction to get your job done in the quickest way possible.
We have made our product super convenient to use a unique built-in vibration absorption system will neutralize the hauling effect thus minimizing the chances of uncontrollable menace. It also comes with anti-slip aluminium alloy handles which are super comfy to hold and light in weight.
It is made of heavy-duty structural construction that can easily withstand regular usage. It comprises of thickened casing to effectively resist wear-out effect. Its low kickback chain offers highly efficient and durable performance. Our product comes with a range of safety features such as a safety lock and advanced exhaust which cuts down the power when the max internal temperature is reached. Its special braking system will bring the operation to a stop in a minimal amount of time.
To consume less power we have added a direct air injection carburettor that mixes air and fuel in the right amounts for complete gasoline combustion. Kick starts in no time use its ergonomic highly sensitive starter with double recoil pulling for a swift start. This chainsaw is equipped with a centrifugal clutch that keeps the motor running stall. Easy to service and very low in maintenance. Accessible engine filters spark plug and fuel tank.
Start up the engine get to work. Hurry up! Order your Chainsaw now.
Key Features:
Easy start system
Balanced design for ease of use and manoeuvrability
Convenient access to engine filters and spark plug
Large capacity oil and fuel tank
High quality air filter
Anti-vibration system
Direct air injection carburettor anti-freeze mechanism
Low-kickback chain
Quick tension chain mechanism integrated chain brake
Automatic pump with adjuster for oil feeding system
Power Source: Petrol
Rated Output Power: 2400W
Vintage: No
Engine Type: 2 Stroke air-cooled
Displacement: 52cc
Maximum Engine Speed: 10 000 RPM
Maximum Engine Speed at Idling: 2800RPM
Ignition Type: CDI
Bar Type: Sprocket Nose
Bar Length: 20″
Fuel Tank Capacity: 550mL
Engine Oil Tank Capacity: 260mL
Fuel Type: Regular Unleaded 90+ RON
Fuel Mix: 25: 1 (25 parts fuel to 1 part two stroke oil)
Chain Oil Type: SAE#10W-30
Chain Type: Low Kickback
Chain Spec: 20″ Pitch 0.325 Gauge 0.058
Maximum Cutting Length: 460mm
Oil Feeding System: Automatic pump with adjuster
Certification: CE
Weight: 6kg
Dimension: 90cmx 30cm x 25cm (L x W x H)
1 x Chainsaw
1 x Bar Cover
1x Tool Kit Set
1 x Funnel
1 x Fuel Mixer
1 xChain
1x Bonus Bag
1 xInstruction Manual
There are no question found.